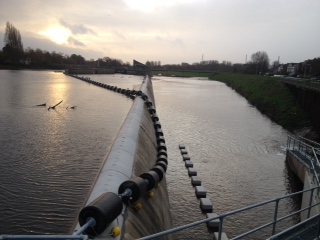 Email sent – Wed 09/12/2015 04:23
Dear Mr Bradshaw
Please see the photograph of the line of buoys recently
installed on the new flood prevention on the River Exe at Trews Weir, Exeter and
as you can see there was not a lot of thought put into the design of these
buoys.
I would question the need for such buoys because there
haven't been any for the last 30 years. Plus the fact the Devon County Council Environment
Designers need retraining on the laws of gravity and water flow – see photo.
I would expect you can see this debacle and the fish ladders
from your kitchen window; hence this sort of BS is going on right under you
snout.
Not another Environmental Dept boondoggle??
The fish ladder can be seen on the bottom right of the photo.
Yours etc
Dransfield