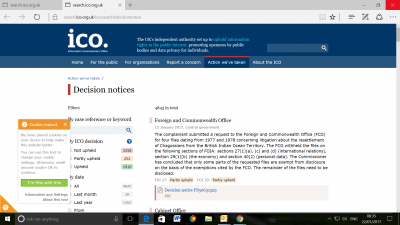 Email sent – Sun 22/01/2017 06:56
Information Commissioner's Office
Dear Mr Bailey
Please see the ICO website page ref the ICO Decsion Notices
(DN) which claims the ICO total DN's is only 4845.
As I am a regular visitor to this particular website; I
recall the total DN's to be in the region of 10K plus.
Please confirm the total number
of DN's is only 4845.
I find this figure hard to believe because there are approx
6000 DN's on record that are either Vexatious or Manifestly Unreasonable.
According to these figures the ICO are handing down 403
Decision Notices per year which does not Justify either your staffing levels or
your fiscal budget.
If this is not a genuine
typo error with regard to the total number of DN's, then is the ICO massaging their DN Notice totals for whatever reason?
For you information action and
files
With thanks
Yours sincerely
Alan M Dransfield
PS I note the ICO is still non compliant with statutory
regulations for Register of Interest Details.