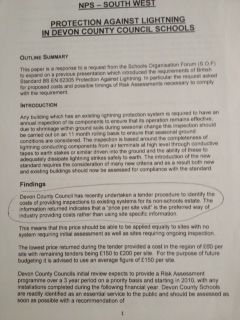 Email sent 14 August 2014 15:24
Dear Mr Bradshaw
Please see the attached document from 2009 which clearly
stated the Devon County Council would undertake Lighting Risk Assessment for all schools. As you
are aware, none of the Devon schools under the DCC has had Lighting Risk
Assessment carried out.
As you are aware, such failure is in breach of duty
of care, it is in breach of all Health & Safety Executive guidelines and is in breach of Lightning
Protection standards BS/EN 62305.
Would you be so kind as to write to the DCC
Chief Executive Officer to ask him why this Lightning Risk Assessment has not been conducted,
please excuse the pun.
With thanks
Yours sincerely
Alan M
Dransfield