Email sent – 04 July 2014 06:57
There is none so blind as those that don't wish to see.
Dear Mr Bradshaw
I am of the opinion that a large number of public officials in Exeter fit
into the subject title category, including your good-self.
I am shocked and appalled at the road and pavement layout near the West of
England Blind School and Countess Weir Roundabout.
The failure to provide tactile paving slabs at a road crossing for the blind
and partially sighted along Topsham Road in close proximity to a Blind School is
little short of criminal negligence.
Mr Bradshaw, do you not recognise such dangers when you are out and
about on your bike? I rather suspect you are willfully blind to such serious
issues.
There is absolutely no justification whatsoever, that tactile safety pavements have been omitted in this specific area.
I do believe this area was covered by the New Mayor in his beat.
Yours sincerely
Alan M Dransfield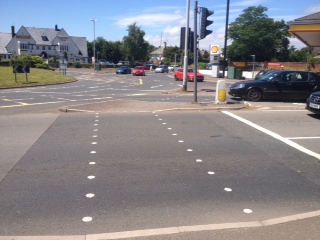 Sent: Friday, July 04, 2014
11:16 AM
Subject: Topsham Road/ Countess Weir
Roundabout
Dear Mr Bradshaw
I am sending this
photograph of the Countess Weir roundabout again and in particular the
pedestrian crossing, which in my opinion is a death trap because this
pedestrian crossing has not (repeat not) been provisioned with any of the
following:-
1. Tactile pavement.
2. Audio safe to
cross buzzer.
3. Visual Aid
Green Man screen.This Pedestrian
Crossing is a death-trap.
To compound
matters, it is a pedestrian crossing on a dual carriage on the busiest roundabout
in Exeter.
I call upon my MP
to inform the traffic police about this health and safety irregularity.
The photograph was
taken facing towards the City Centre. I find it difficult to believe or accept
that nobody from Devon County Council
has seen this timebomb. What about you
Mr B? Have you not seen it in your
travels?
With thanks
Yours sincerely
Alan M Dransfield